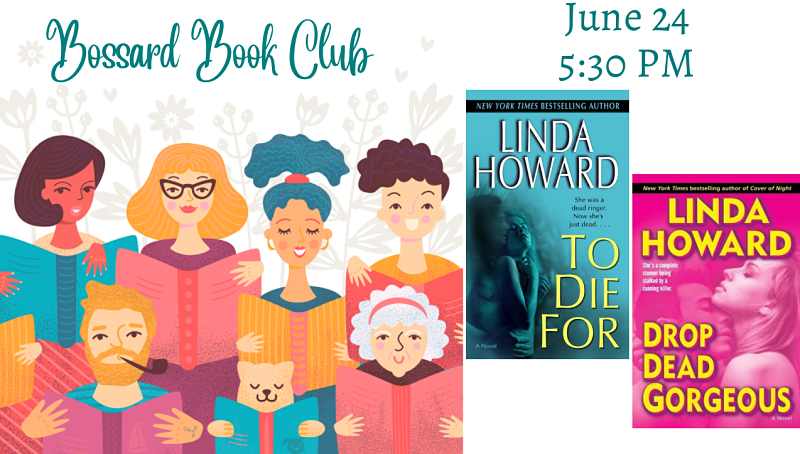 Join us on Thursday, June 24 at 5:30 PM to discuss To Die For (Blair Mallory, Book 1) and Drop Dead Gorgeous (Blair Mallory, Book 2) by Linda Howard.
To Die For:

She was a dead ringer. Now she's just dead....

Blair Mallory lives the good life. She's pretty, confident, and the owner of a thriving up-scale fitness center. But in the shadow of success, a troubled member of the club develops a strange fixation on Blair, imitating her style and dress. Matters take a darker turn when the look-alike is shot dead -- and Blair witnesses the horror.

As the media speculates on the tawdry details of the homicide and pushes Blair into the harsh spotlight, she locks horns with police lieutenant Wyatt Bloodsworth. He wants to lead an investigation without interference, while Blair is determined to probe the dead woman's life on her own. But when someone begins to menace Blair with mounting threats, Wyatt takes notice: Was this murder indeed a lethal case of mistaken identity -- and was Blair the intended victim?

Drop Dead Gorgeous:

Blair Mallory has already survived one murder attempt. Now, while planning her wedding and dealing with holiday-season madness, Blair once again dodges a bullet. Or more precisely, a Buick. And though the driver's identity remains a mystery, his or her murderous intentions are all too clear.

Or are they? After all, Blair's homicidal ex-husband and his partner in crime/wife are safely behind bars. And even Wyatt Bloodsworth, her police detective groom-to-be, isn't inclined to believe she's being targeted again. All of which makes Blair wonder if her close call was simply a mishap. But the wondering stops when she narrowly cheats death again in another seemingly innocent accident. Two strikes is all it takes to convince Blair that she's back in someone's crosshairs. And the only thing more frightening is that Wyatt still doubts her. That means this time, no one will be watching Blair's back when she set out to get the drop on her would-be killer -- before whoever it is finally drops her.
All interested readers (ages 18+) are welcome to attend.
Copies of the book (in regular print, and, if available, in large print and audio) are available to be checked out.
For more information and a list of the 2021 titles, please visit the Adult Book Club webpage.