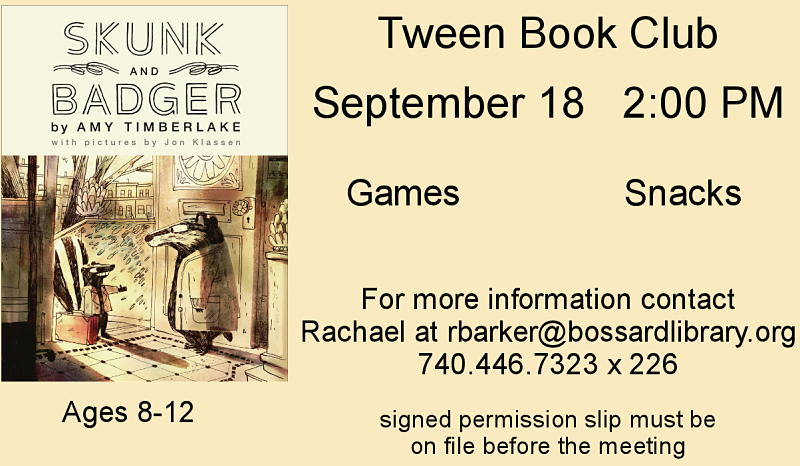 Tweens, join us on Saturday, September 18 at 2:00 PM to discuss Skunk and Badger by Amy Timberlake.
No one wants a skunk.

They are unwelcome on front stoops. They should not linger in Rock Rooms.

Skunks should never, ever be allowed to move in. But Skunk is Badger's new roommate, and there is nothing Badger -- who prefers a quiet Rock Room and the focus of Important Rock Work -- can do about it.

Skunk plows into Badger's life, and everything is upended. Tails are flipped. The wrong animals is sprayed. And why-oh-why are there so many chickens?
For more information about Skunk and Badger and Amy Timberlake, please visit her website.
Miss Rachael encourages interested tweens to attend even if they have not finished, or have not read, the book.
Tweens (ages 8-12) interested in the book club MUST have their parent or legal guardian complete and return a permission slip.
This permission slip MUST be on file at the Library before attending a meeting or checking out the month's title.
Permission slips are available for download here, or stop by the Library to pick up a copy.
For more information regarding Tween Book Club, please contact Rachael at rbarker@bossardlibrary.org, or 740.446.7323 x 226.