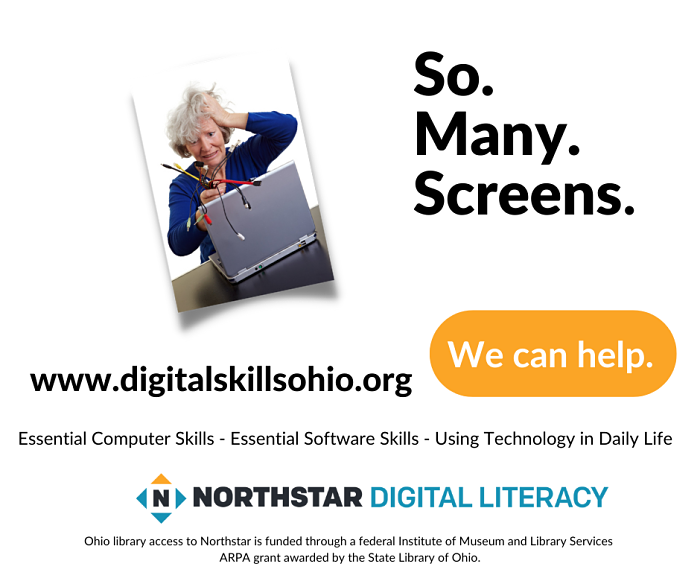 Are you looking to improve your skills with computers, software, or technology?
If so, Bossard Library has a new resource to help you with that -- Northstar Digital Literacy.
Northstar is a self-guided assessment and learning tool available for free to our patrons. It comes complete with short lessons and practice exercises to improve skills on a number of common computer topics.
Interactive digital literacy test and certification topics include:
Basic Computer Skills
Internet Basics
Using Email
Windows and Mac Operating Systems
Microsoft Word, Excel, and PowerPoint
Google Docs
Career Search Skills
Supporting K-12 Distance Learning
Social Media and Your Digital Footprint.
Once an individual has taken a self-guided assessment test, he or she will be guided in a number of lessons in areas where they need to improve their skills.
Individuals that would like to earn a certificate for passing the assessments, can contact the Reference Department (740.446.7323 x 241 or 242) to schedule an appointment for a proctored testing time. For those who pass the assessments, the Library will certify the results. Those who do not pass the assessments, can practice more and retake the tests at a later date. This certification can be useful for both job seekers who want to demonstrate their proficiency and employers who are seeking assurance of skills.
Individuals can take assessments without creating an account, however, those who wish to track their progress, save their results, or collect badges of completion must create an account.
Use this link to access Northstar Digital Literacy and set up an account.
The Northstar resource is available 24/7 on our website and may be accessed anywhere Internet service is available. Library staff are available to help with this resource during regular hours.
If you have any questions or need help using the Northstar Digital Literacy resource, please contact the Reference Department at 740.446.7323 x 241 or 242.
Ohio library access to Northstar is funded through a federal Institute of Museum and Library Services ARPA grant awarded by the State Library of Ohio.