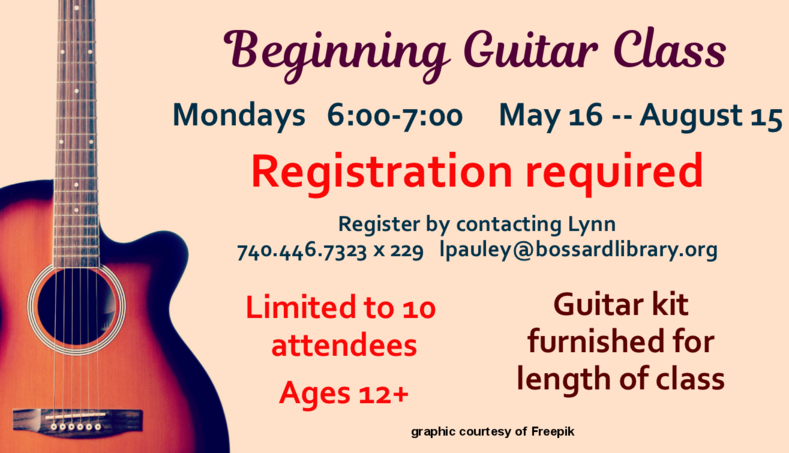 THE GUITAR CLASS IS NOW FULL.
WE ENCOURAGE YOU, HOWEVER, TO CONTINUE TO CALL/EMAIL AND REGISTER AS WE CAN PUT YOUR NAME ON A WAITLIST.
THOSE ON THE WAITLIST WILL BE CALLED IF THERE ARE ANY CANCELLATIONS AND WILL BE THE FIRST ONES CALLED WHEN WE OFFER ANOTHER CLASS.
Bossard Library is pleased to announce that we will be offering a Beginning Acoustic Guitar class starting in May.
Classes will be every Monday evening from 6:00 -- 7:00 PM starting May 16. Our instructor will be Niles Elliott.
Class size is limited to 10 attendees and will be open to those ages 12 and up.
Classes are FREE but REGISTRATION IS REQUIRED.
To register, please contact Lynn at 740.446.7323 x 229 or lpauley@bossardlibrary.org. If registering via email please include in your subject line "Guitar Registration".
Please note that registration will not be considered complete until the Beginning Guitar Class Participation Agreement Form has been completed and returned to the Library by 8:00 PM on Thursday, May 12th. If the form is not returned by the stated date and time, the registration will be consider void and the next person on the list will be given the opportunity to participate in the class.
A parent/legal guardian of those registrants between the ages of 12-17 must complete and return the Beginning Guitar Class Participation Agreement Form for their minor child/children.
Please be willing to commit to the full 12-week class, as each class will build upon the previous class.
All participants will be required to borrow an acoustic guitar kit from the Library for the duration of the class. Even if a participant wishes to use their own guitar, materials needed for the class are included in the Library-owned guitar kit. To borrow the guitar kit, a patron must be 18 years of age or older and have a Bossard Library card in good standing. 
Those who register after the class is full will be placed on a waiting list. If there are any cancellations, those on the list will be contacted in the order in which they registered. If another beginning guitar class is offered, those on the waiting list will be contacted first. 
This project was supported in whole or in part by federal Institute of Museum and Library Services funds, granted through the State Library of Ohio. The opinions expressed herein do not necessarily reflect the position or policy of IMLS or the State Library of Ohio, and no official endorsement by either agency should be inferred.