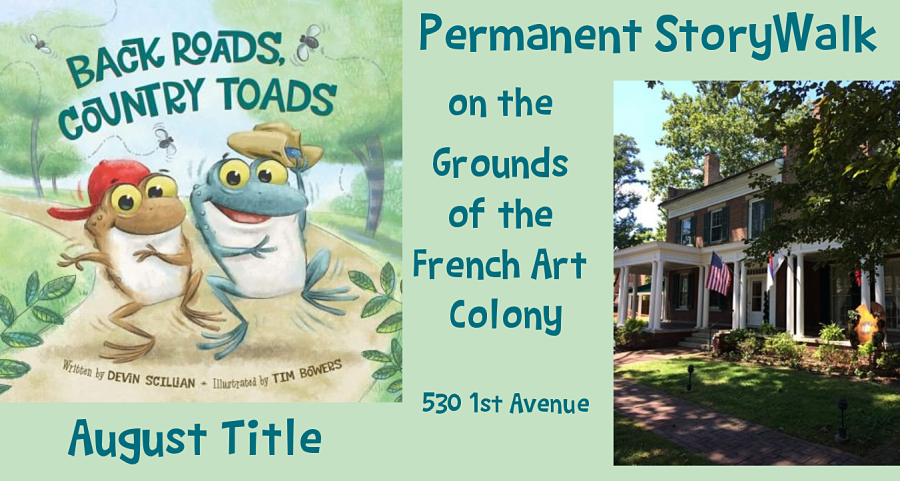 The Library's new StoryWalk title is now on display at the French Art Colony.
Stop by, enjoy the gardens and grounds, and read Back Roads, Country Toads by Devin Scillian, illustrated by Tim Bowers.
When country toads, Hank and Buckeroo, hear some folks talking about going "fly-fishing", they know they have to tag along. What could be better than fishing for flies? So they stow away in a picnic basket and prepare for the feast of their lives.

But what will happen when they realize fly-fishing isn't exactly what they expected. Enjoy this lively tale that is full of silly puns and clever writing.
If you would like more information about Devin Scillian, please visit his website.
Find out more about Tim Bowers, a native Ohioan at his website.
Read an interview with author Devin Scillian about how the Back Roads, Country Toads story came about. 
Our next StoryWalk will be available the beginning of September.
StoryWalk is a way for children and adults to enjoy both the great outdoors and great children's books. Follow the pages of the story as you walk from frame to frame along the path. StoryWalk promotes literacy, physical activity, and parent/caregiver involvement.
The StoryWalk Project was created by Anne Ferguson of Montpelier, VT and developed in collaboration with the Kellogg Hubbard Library. StoryWalk is a registered service mark owned by Ms. Ferguson.