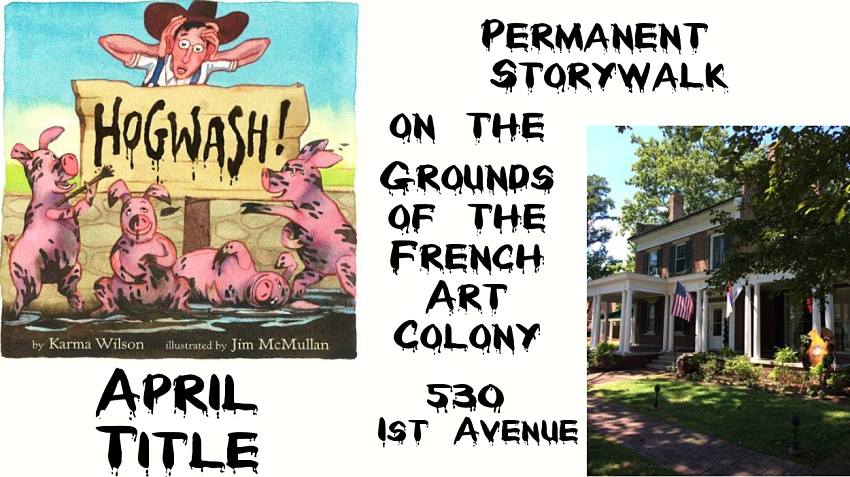 The Library's new StoryWalk title is now on display at the French Art Colony.
Stop by, enjoy the gardens and grounds, and read Hogwash! by Karma Wilson, illustrated by Jim McMullan.
One warm day, Farmer decides to spring-clean all of his animals:

"He washed the horses, ducks and cows

The goats, the cats and dogs.

Everything went dandy....

Until the farmer reached his hogs"

"No hogwash for us today. Pigs love dirt -- so go away."

Farmer's stubborn pigs refuse to be hogwashed, and no matter what he tries, poor Farmer cannot trick them into getting clean!

But when several failed attempts leave him stuck in the mud, our determined farmer realizes his hogs may have been on to something all along....sometimes a mud bath is even better! 
If you would like more information about Karma Wilson, please visit her website.
For more information about illustrator Jim McMullan, please visit his website.
Listen and watch a read-aloud version of Hogwash! (YouTube)
Our next StoryWalk will be available the beginning of May.
StoryWalk is a way for children and adults to enjoy both the great outdoors and great children's books. Follow the pages of the story as you walk from frame to frame along the path. StoryWalk promotes literacy, physical activity, and parent/caregiver involvement.
The StoryWalk Project was created by Anne Ferguson of Montpelier, VT and developed in collaboration with the Kellogg Hubbard Library. StoryWalk is a registered service mark owned by Ms. Ferguson.