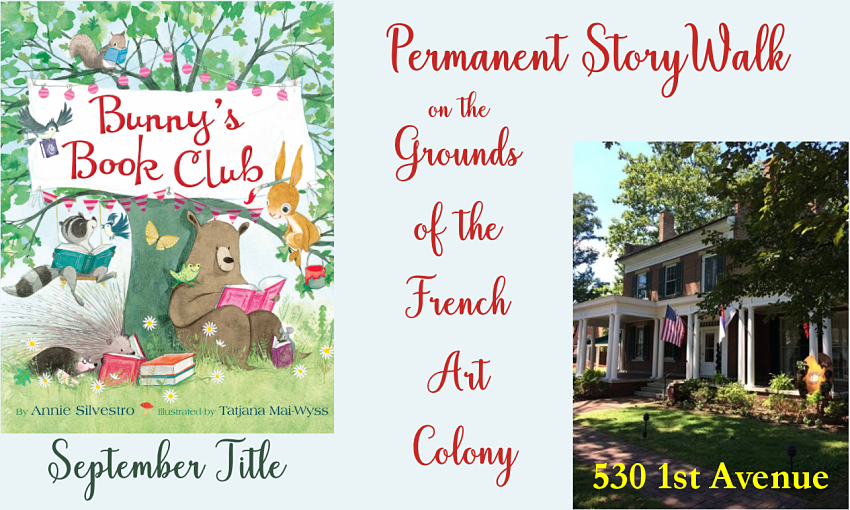 The Library's new StoryWalk title is now on display at the French Art Colony.
Stop by, enjoy the gardens and grounds, and read Bunny's Book Club written by Annie Silvestro and illustrated by Tatjana Mai-Wyss.
Bunny has loved books ever since he sat outside the library with the kids and listened to summer story time. But when the weather gets cold and story time moves back inside, Bunny is bereft. His daily dose of joy is gone!

Desperate, Bunny refuses to miss out on any more reading time and devises a plan to sneak into the library at night....through the library's book drop!

He is able to wiggle inside the library, where the shelves are bursting with books -- better than a field of fresh carrots. Bunny returns to the library each night, and soon his burrow is overrun with books. Bunny's friends, Porcupine, Bear, Squirrel, Raccoon, Frog, Mole, and Mouse also want to read and they join in the nighttime raids.

Things are going well until the librarian catches the animals in the act one night. Are Bunny and his friends in trouble? Will they not be able to come back to the library again? Read Bunny's Book Club to find out.
If you would like more information about Annie Silvestro, please visit her website.
For more information on illustrator Tatjana Mai-Wyss, please visit her website.
To listen to a read-aloud version of this story please click here (YouTube).
Our next StoryWalk will be available the beginning of October.
StoryWalk is a way for children and adults to enjoy both the great outdoors and great children's books. Follow the pages of the story as you walk from frame to frame along the path. StoryWalk promotes literacy, physical activity, and parent/caregiver involvement.
The StoryWalk Project was created by Anne Ferguson of Montpelier, VT and developed in collaboration with the Kellogg Hubbard Library. StoryWalk is a registered service mark owned by Ms. Ferguson.