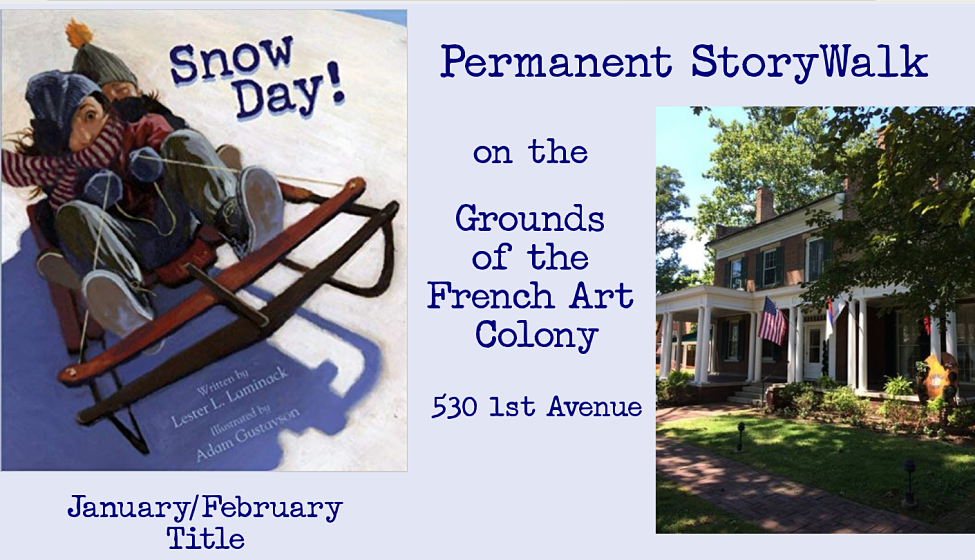 The Library's new StoryWalk title is now on display at the French Art Colony.
Stop by, enjoy the gardens and grounds, and read Snow Day! by Lester L. Laminack.
When the television weatherman predicts a big snowfall, the narrator of the book gleefully imagines the fun-filled possibilities of an unscheduled holiday from school.

But, when the family wakes up the next morning, they are in for a disappointment. No snow!

As the family members pile into the car so they won't be late for school, an unexpected twist reveals who wanted the snow day most of all.
If you would like more information about Lester L. Laminack, please visit his website.
Click here to listen to Snow Day! read aloud (YouTube).
Our next StoryWalk will be available the beginning of March.
StoryWalk is a way for children and adults to enjoy both the great outdoors and great children's books. Follow the pages of the story as you walk from frame to frame along the path. StoryWalk promotes literacy, physical activity, and parent/caregiver involvement.
The StoryWalk Project was created by Anne Ferguson of Montpelier, VT and developed in collaboration with the Kellogg Hubbard Library. StoryWalk is a registered service mark owned by Ms. Ferguson.