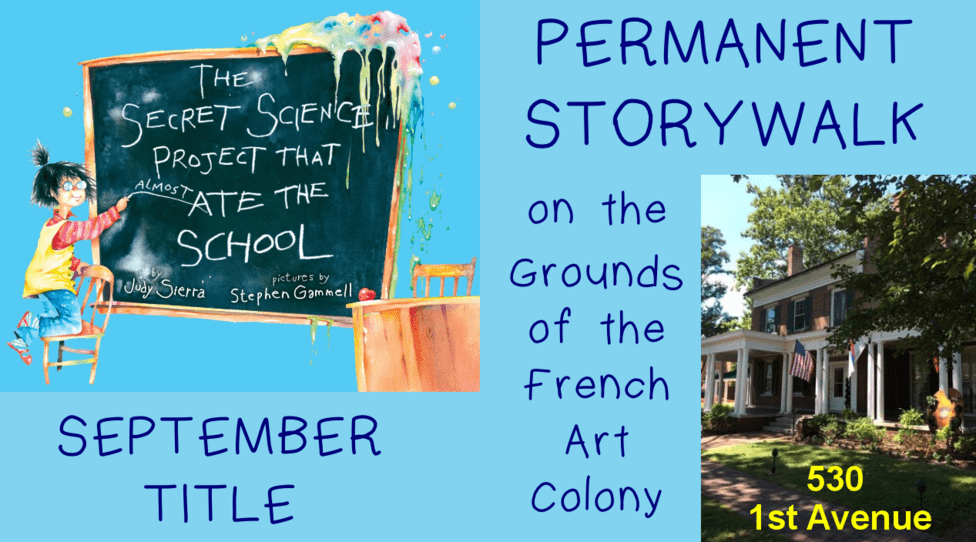 The Library's new StoryWalk title is now on display at the French Art Colony.
Our title for September is The Secret Science Project That Almost Ate the School written by Judy Sierra and illustrated by Stephen Gammell.
It's science fair time in third grade and all the students have a project except one nameless girl. Not knowing what to say when her teacher asks her what her project is, she replies that it is a secret. Now, she has to come up with a project, fast!!

Becoming anxious, she goes on the Internet in search of a project and finds the perfect one: Professor Swami's Super Slime -- a mutant yeast with a piece of dragon DNA!

When the slime arrives, it comes with a set of cautionary instructions, one of which is "Do Not Open Until the Science Fair".So excited over her project, the girl forgets to read the instructions and opens the box.

She then finds herself with a green and growing blob of super slime that is gobbling up everything in sight!

Will the girl remember the instructions in time to stop the slime from eating the rest of her friends, family, and the school? Read the book to find out!
To learn more about author Judy Sierra, visit her website.
To learn more about illustrator Steven Gammell, visit this website.
Listen to a read-aloud version of The Secret Science Project That Almost Ate the School (YouTube).
Our next StoryWalk will be available the beginning of October.
StoryWalk is a way for children and adults to enjoy both the great outdoors and great children's books. Follow the pages of the story as you walk from frame to frame along the path. StoryWalk promotes literacy, physical activity, and parent/caregiver involvement.
The StoryWalk Project was created by Anne Ferguson of Montpelier, VT and developed in collaboration with the Kellogg Hubbard Library. StoryWalk is a registered service mark owned by Ms. Ferguson.