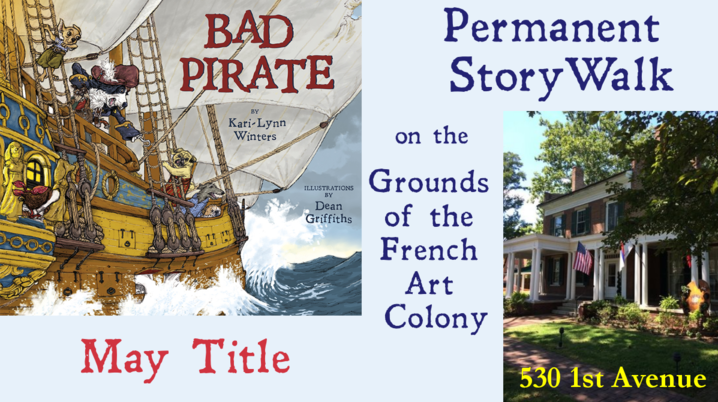 The Library's new StoryWalk title is now on display at the French Art Colony.
Stop by, enjoy the gardens and grounds, and read Bad Pirate written by Kari-Lynn Winters and illustrated by Dean Griffiths.
Captain Garrick thinks there's nothing as bas as a goodhearted pirate. Can his daughter prove him wrong?
Barnacle Garrick is bold and saucy and selfish. And for a pirate captain, that's good, very good.  And his crew are all scurvy sea dogs -- selfish down to the last fleabitten scuttle-butt. And that's good too. But Augusta Garrick is shy, polite, and selfless. For a pirate, that's bad, very bad. 
"To be a good pirate, yez gots to be saucy," says Captain Garrick. "And yez gots to be bold. But most important, me sea pup, yez gots to be SELFISH!"
Despite her father's lecture and horrible example, the sea pup can't stop helping out. It just might take one terrible storm, a ripped sail, a missing peg leg, and a panicked crew before Augusta can prove that being selfless is a bold and saucy move after all. And that's good, very good indeed.
A rollicking tale peppered with pirate talk, Bad Pirate is a story about being true to yourself, even if it means you must go against the pack.  For landlubbers, a glossary of pirate and sailing terms is included at the end. 
Pirates and Mermaids, Sharks and Whales, Beach Parties and Loads of Fun!  Oceans of Possibilities, the Library's Summer Reading Program for kids, tweens, and teens will start Monday, June 6. Make sure to stop by sometime that week to register. There will be special events and programs for kids, tweens, and teens throughout the summer months.
To learn more about Kar-Lynn Winters, please visit her website.
Please visit this website for more information on illustrator Dean Griffiths.
Our next StoryWalk will be available the beginning of June.
StoryWalk is a way for children and adults to enjoy both the great outdoors and great children's books. Follow the pages of the story as you walk from frame to frame along the path. StoryWalk promotes literacy, physical activity, and parent/caregiver involvement.
The StoryWalk Project was created by Anne Ferguson of Montpelier, VT and developed in collaboration with the Kellogg Hubbard Library. StoryWalk is a registered service mark owned by Ms. Ferguson.