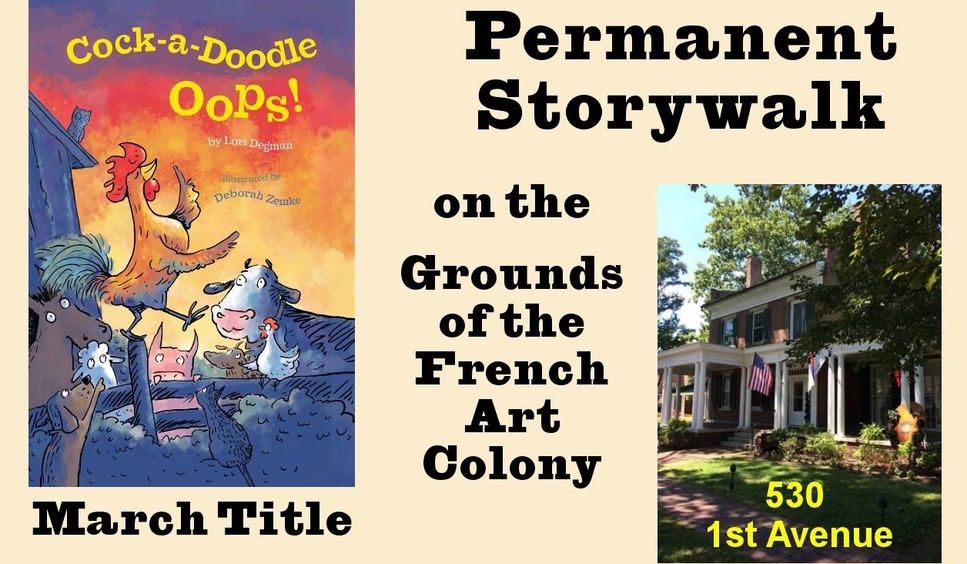 The Library's new StoryWalk title is now on display at the French Art Colony.
Our title for March is Cock-a-Doodle OOPS! written by Lori Degman and illustrated by Deborah Zemke.
When the rooster is away, who is there to ring in the day?

A community of farm animals band together to help out rooster who is badly in need of a vacation. How hard can it be to wake up a sleeping farmer?

While rooster is gone, the pig, cow, sheep, and other farm animals attempt to rouse Farmer McPeeper with a "cock-a-doodle SQUEAL", a "cock-a-doodle MOO, and a "cock-a-doodle BAAA", with hilarious results.
To learn more about author Lori Degman, please visit her website.
To learn more about illustrator Deborah Zemke, please visit her website.
Listen to a read-aloud of Cock-a-Doodle OOPS! (YouTube).
Our next StoryWalk will be available the beginning of April.
StoryWalk is a way for children and adults to enjoy both the great outdoors and great children's books. Follow the pages of the story as you walk from frame to frame along the path. StoryWalk promotes literacy, physical activity, and parent/caregiver involvement.
The StoryWalk Project was created by Anne Ferguson of Montpelier, VT and developed in collaboration with the Kellogg Hubbard Library. StoryWalk is a registered service mark owned by Ms. Ferguson.