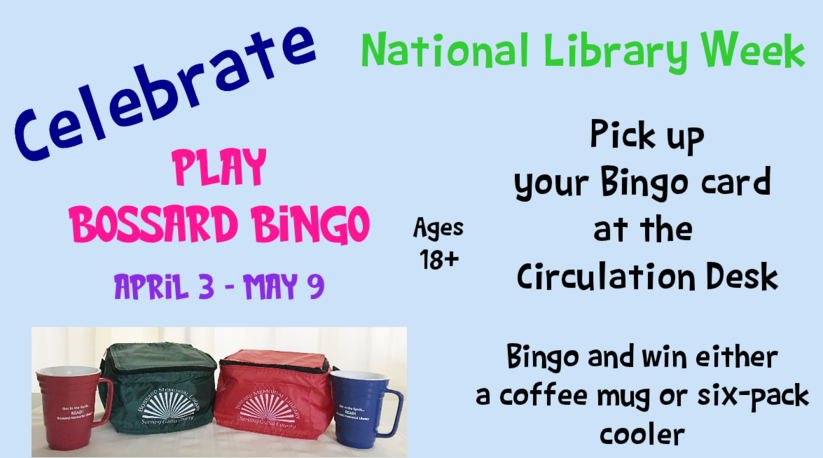 Join Bossard Library in celebrating National Library Week (April 3-April 9) by playing Bossard Bingo.
Starting Sunday, April 3, you can pick up your Bossard Bingo card at the Circulation Desk.
As you participate in the activities in the squares, mark them off of your Bingo card.
Once you Bingo (either across, down, or diagonally) bring your card to the Library and turn it in to win either a coffee mug or a six-pack cooler (while supplies last).
Open to those ages 18+.
Last day to claim a prize will be Monday, May 9.
National Library Week is a time to celebrate our nation's libraries, library workers' contributions and promote library use and support.
National Library Week is sponsored by the American Library Association (ALA) and observed in library across the country each April. All types of libraries -- school, public, academic, and special -- participate.
The theme for National Library Week 2022, "Connect with Your Library," promotes the idea that libraries are places to get connected to technology by using broadband, computers, and other resources. Libraries also offer opportunities to connect with media, programs, ideas, and classes -- in addition to books.
Most importantly libraries also connect communities to each other. Overall, the theme is an explicit call to action -- an invitation for communities to join, visit, or advocate for their local libraries.