| Label | Information |
| --- | --- |
| Dates & times | - |
| Category | Tweens, Teens, Adults |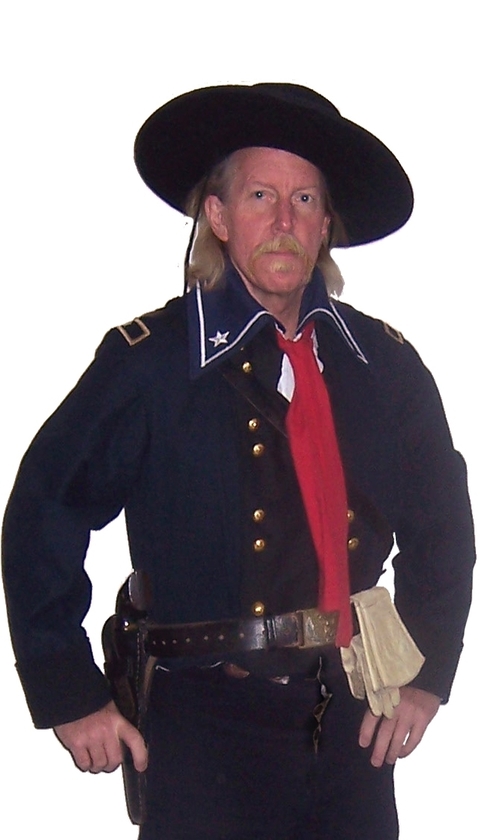 Join Union Cavalry officer George Armstrong Custer on Thursday, June 9 at 7:00 PM in the library's Riverside Room as he recounts his exploits both before and during the Civil War.
Learn about his life at West Point and his participation in the early battles of the War. Find out about the "Custer Luck" and the significance of his attendance when Lee surrendered at Appomattox Courthouse.
Local musician Steve Free will be performing Civil War-period tunes from 6:15 - 6:45 PM.
Rick Williams' living history portrayal of Custer will begin at 7:00 PM. A Q & A session will follow the performance. Questions can first be asked to Williams as Custer, and then to Williams as himself.
Refreshments will be available for a donation from 6:00 - 6:45 PM and after the Q & A session.
If at all possible, attendees are asked to park in the gravel lot directly across from the Library on Spruce Street.
A special "thank you" to members of the Cadot-Blessing Camp #126 SUVCW who will be escorting General Custer to the stage.
What is "Living History Nights"? Performances that bring history to life. Each night a scholar/living historian will assume the role of a notable historical figure and perform a monologue based on the life of that individual. This will be followed by an audience Q & A session with questions addressed to both the character and the scholar/living historian.
This event, presented by the Gallipolis Chautauqua Committee, is suitable for all ages and is free and open to the public.
George Armstrong Custer (1839-1876): Born in New Rumley, Ohio, Custer spent most of his youth living with his half-sister and her husband in Michigan. After graduating from McNeely Normal School (Hopedale Normal College) in Ohio, he entered the United States Military Academy. After nearly being expelled several times and accumulating 726 demerits in just four years, he graduated last in his class in 1861.
He entered the army as a second lieutenant and saw action at the First Battle of Bull Run where he gained the attention of Major General George B. McClellan, the commander of the Union Army. He joined McClellan's staff where he was known for his bravery, brashness, and his love of publicity. In 1863, at the age of 23, he became a brigadier general of U.S. Volunteers -- making him the youngest general at that time.
Dubbed the "Boy General", Custer played a key role at the Battle of Gettysburg by preventing General J.E.B. Stuart from attacking Union troops. He participated in the Shenandoah Valley Campaign and received his final promotion of the war, to major general of volunteers. He and his men took part in the Battle of Appomattox Court House which ended the war in April 1865. 
Known for his flamboyant appearance and his "Custer Luck", he emerged relatively unscathed from the war despite having 11 horses shot from under him and receiving only one wound from a Confederate artillery shell during the Battle of Culpepper Courthouse.
Rick Williams is from Middletown in Butler County, Ohio. He is a U.S. Army veteran who served in the mid to late 70's in helicopters and artillery. Williams began Civil War reenacting in 1999, joining a Kentucky cavalry company where he learned cavalry and served on horse artillery. He served with several cavalry companies in Ohio rising through the ranks to Corporal, First Sergeant and 2nd Lieutenant. In 2001 he appeared as an extra as a Confederate cavalryman in the movie "Gods and Generals".
In 2003, he first appeared as Custer. In 2007, Williams earned the role of Custer at the Last Stand reenactment in Montana, which he held for 8 years. During this period he also appeared several times on the History Channel and the Smithsonian Channel. In 2009 he appeared as Custer in the movie "Reel Injun". Throughout his cavalry career, he appeared in numerous domestic and foreign documentaries. Williams has appeared at events and reenactments from California to New York. He has been the official General Custer for Custer's hometown of New Rumley, Ohio through the Custer Memorial Association for 15 years. Currently he serves as Captain and Commanding Officer for the 5th Ohio Light Artillery.
Williams is a 1995 graduate of Daemen College in Buffalo, NY with a B.A. in Psychology. He retired after working many years in the developmental disabilities field. Williams and his wife live on a small farm in Clinton County, Ohio.