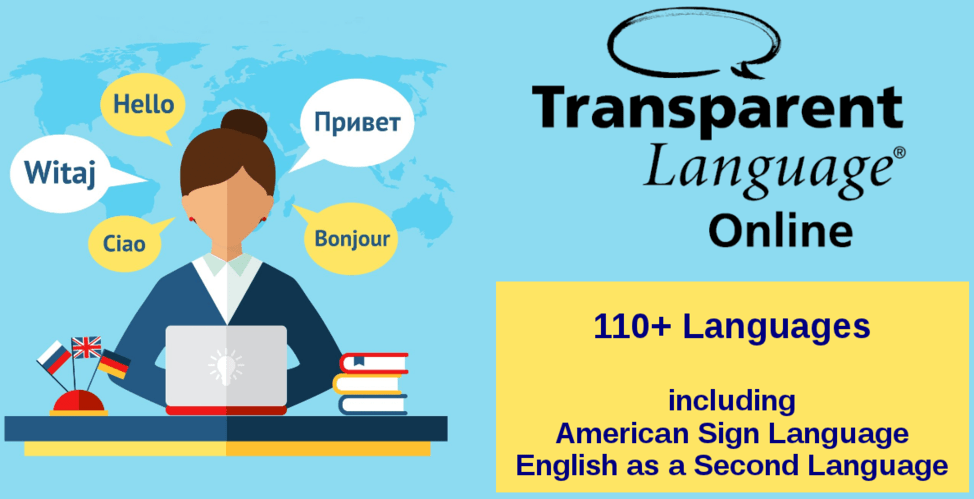 Planning a trip to Japan next summer? Traveling to Italy to research your ancestry? Just want to brush up on that language you studied for four years in school, but somehow can't seem to remember it all? We've got you covered.
We are excited to announce the availability of Transparent Language Online, a complete language-learning system with courses and lessons designed to build listening, speaking, reading, and writing skills. Transparent Language Online allows learners to explore a new language in the comfort of their own home, at the library, or on-the-go.
Using a Bossard library card, patrons will have unlimited access to more than 110 languages, including American Sign Language. English as a Second Language is offered for speakers of over 30 languages. Transparent Language Online is packed with pronunciation practice, speech analysis, grammar, writing activities, and vocabulary-building activities. This extensive language-learning program works on virtually any computer or mobile device through a web browser or mobile app.
The library is also offering KidSpeak, a fun, age-appropriate online language course designed for children ages 6 and up! Accessible through Transparent Language Online, KidSpeak introduces children to English, Spanish, French, Italian, and Mandarin Chinese. The program teaches words and phrases suitable for learners' age, needs, and interests. More than 40 activities, puzzles, and songs guide young learners through the basics, along with a cartoon "friend" who speaks the language. KidSpeak can be used through a web browser on computers.
Don't have a Bossard library card? No worries, applying for one is easy. Follow this link for information on applying for a card, then stop in at the library to sign-up. Digital library cards are available for those who only wish to access our digital resources. Follow this link for information on how to apply for a digital only library card. 
Access this new service here: Transparent Language Online.
For more information, please contact the Reference Department at 740.446.7323 x 241 or 242 or reference@bossardlibrary.org.