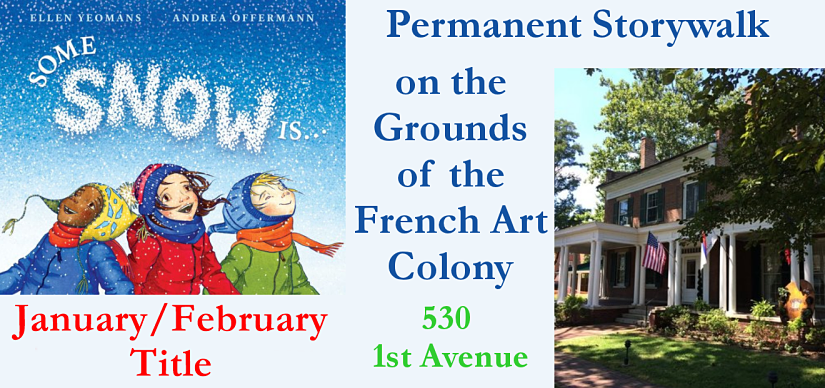 The Library's new StoryWalk title is now on display at the French Art Colony.
Stop by, enjoy the gardens and grounds, and read Some Snow Is... by Ellen Yeomans, illustrated by Andrea Offermann.
Snow...can't wait for it to come...can't wait for it to leave.

Starting with the thrill and excitement over the first flakes falling from the sky, follow three young neighbors enjoying all types of snow through the season.

From sleet and fluff snow that isn't good for anything to angel snow, snowball snow, driveway snow (which can lead to the best forts), tracking snow, sledding snow, snow day snow, and all the way to the last snow which is exciting in its own way.

Join the author and illustrator to celebrate all the different kinds of snow.
If you would like more information about Andrea Offermann, view her biography here and here.
Listen and watch a read-aloud version of Some Snow Is.... (YouTube)
Our next StoryWalk will be available the beginning of March.
StoryWalk is a way for children and adults to enjoy both the great outdoors and great children's books. Follow the pages of the story as you walk from frame to frame along the path. StoryWalk promotes literacy, physical activity, and parent/caregiver involvement.
The StoryWalk Project was created by Anne Ferguson of Montpelier, VT and developed in collaboration with the Kellogg Hubbard Library. StoryWalk is a registered service mark owned by Ms. Ferguson.