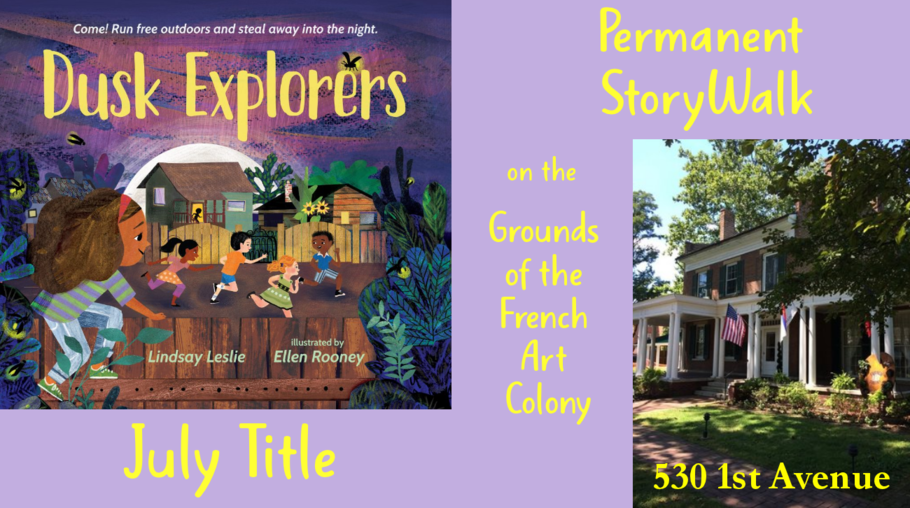 The Library's new StoryWalk title is now on display at the French Art Colony.
Stop by, enjoy the gardens and grounds, and read Dusk Explorers written by Lindsay Leslie and illustrated by Ellen Rooney.
"Calling for leapfroggers who love to jump over backs and fall down on itchy blades of freshly cut grass...."

"Wishing for firefly catchers who love to fling their nets into the dimming sky sprinkled with diamonds..."

It's that special time of evening, when the hours and the possibilities seem endless as sunlight is fading to dusk. A buzz of excitement and wonder takes over the neighborhood.....what outdoor adventures await?

Join a diverse group of kids as they dash and dodge in classic street games, like tag and kick-the-can, and reconnect with nature's simple pleasures of catching toads, hunting fireflies, and climbing trees.

These dusk explorers play, laugh, and make the most of their own front yards right up until their parents call out, "It's time to come home!"

But when the sun begins to set tomorrow, they'll be back for more evening excitement. "Come! Run free outdoors and steal away into the night."
To learn more about Lindsay Leslie, please visit her website.
To learn more about illustrator Ellen Rooney, please visit her website.
View author Lindsay Leslie's Dusk Explorer Activity Guide (PDF): 
Listen to author Lindsay Leslie read-aloud Dusk Explorers (YouTube).
Our next StoryWalk will be available the beginning of August.
StoryWalk is a way for children and adults to enjoy both the great outdoors and great children's books. Follow the pages of the story as you walk from frame to frame along the path. StoryWalk promotes literacy, physical activity, and parent/caregiver involvement.
The StoryWalk Project was created by Anne Ferguson of Montpelier, VT and developed in collaboration with the Kellogg Hubbard Library. StoryWalk is a registered service mark owned by Ms. Ferguson.