| Label | Information |
| --- | --- |
| Dates & times | |
| Category | Adults |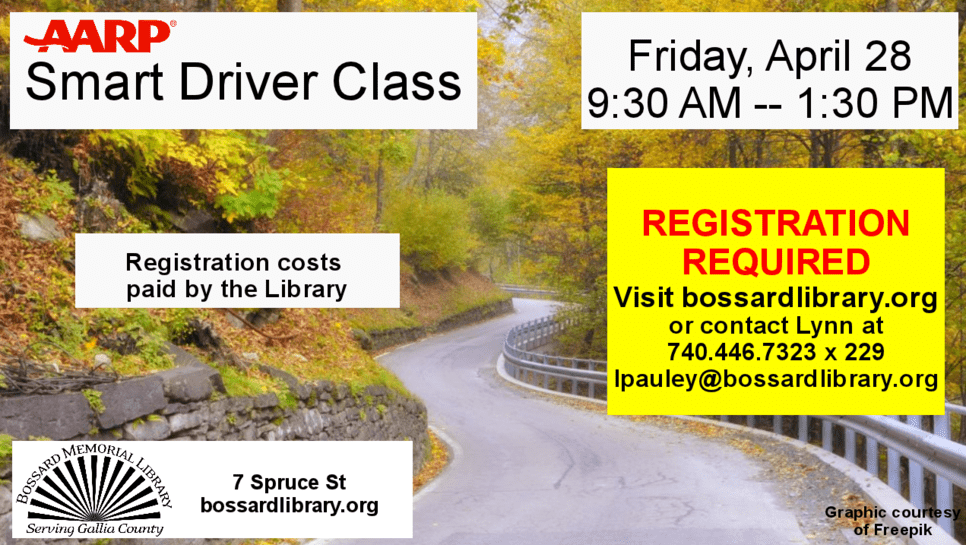 Join Hal Hardiesty with AARP and take the AARP Smart Driver class.
This class will offer you the chance to refresh your driving skills and knowledge of the rules of the road; learn techniques for handling left turns, right-of-way and roundabouts; and discover proven driving methods to help keep you and your loved ones safe on the road.
After completing the class, you may be eligible to receive an auto insurance discount. Please contact your agent for details.
This class will be limited to 25 attendees.
Registration is required for this class. Click here to register.
The cost of the class is $20.00 for AARP members and $25.00 for non-members.
Bossard Memorial Library will pay the cost of the class for those who attend.
If you are an AARP member, please make sure to bring your AARP card with you to the class.
If you find that you will be unable to attend the class after registering, please make sure to cancel online or contact us as soon as possible. This will give someone else the chance to attend.
If you are unable to register online or have any questions, you may contact Lynn at 740.446.7323 x 229 or lpauley@bossardlibrary.org.