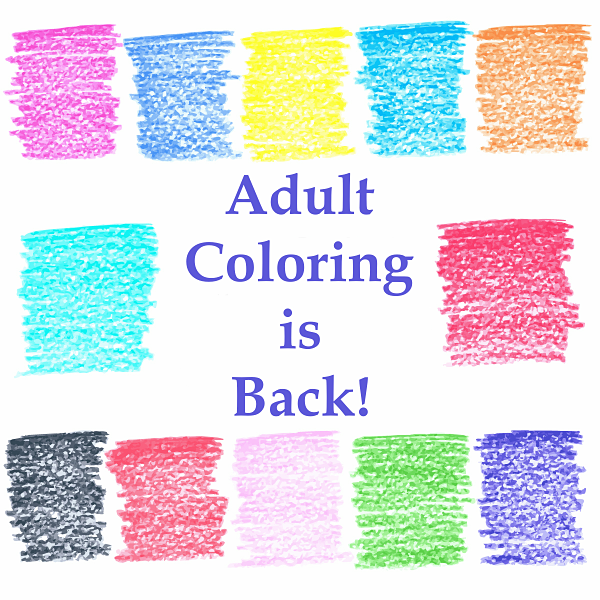 We are excited to announce that Color Me Happy, our adult coloring program, will be returning to the Library in September.
Tired of coloring by yourself? Crave some social interaction? Would like to get together with other coloring enthusiasts? If so, plan to attend one of our two Color Me Happy sessions at 10:00 AM and 2:00 PM on Saturday, September 12.
Due to state restrictions placed on the number of people that are allowed to gather in one area, each session will be limited to 9 (nine) attendees. In order to attend one of the sessions, you MUST register by contacting Lynn via e-mail (lpauley@bossardlibrary.org) or via the Circulation Desk (740.446.7323). If you would like to attend and all slots have already been filled, you will be placed on a waiting list and notified if someone is unable to attend.
As social distancing restrictions are still in place, each attendee will need to wear a mask at all times while in the Library. Attendees must sit one per table and all tables will be 6 feet apart from each other.
Attendees will receive their own set of colored pencils (24) and gel pens (24) to keep (while supplies last, one set per adult). Each attendee will bring back this set each time they attend a coloring session. No pencils or pens will be available if an attendee forgets to bring their set of pencils/pens.
Each attendee will receive 3 coloring sheets of the Library's choosing which they may color at the session or take home and color. No substitutions or extra copies will be available.
Attendees are welcome to bring their own pencils, pens, and coloring sheets if they so desire.
At this time, refreshments will not be served. However, attendees are welcome to bring their own drinks and snacks to the session. Just as a reminder, you will not be able to share your goodies with any of your fellow coloring buddies.
For those patrons who are interested in adult coloring but would prefer not to attend Color Me Happy in person, pen/pencil sets will be available to take home and keep (while supplies last, one set per adult). Patrons not attending Color Me Happy will be able to stop in at the Library and pick up a packet of 3 coloring sheets each month to take home and color.
For those not attending Color Me Happy on September 12, pen/pencil sets and coloring sheets will be available on Monday, September 14. If you are unable to stop by on the 14th, please contact Lynn to arrange a time during that week to pick up your pen/pencil set and coloring sheets.
Color Me Happy is for adults ages 18 and over, no children are permitted.
Graphic courtesy of Freepik.