| Label | Information |
| --- | --- |
| Dates & times | - |
| Category | Adults |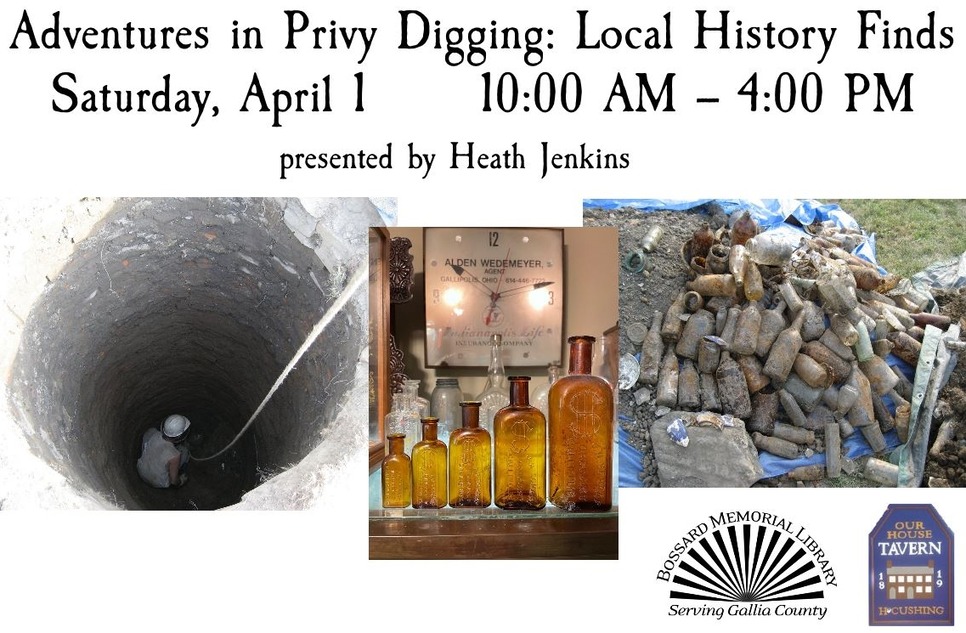 Join Heath Jenkins on Saturday, April 1, 2023 from 10:00 AM - 4:00 PM to learn about his adventures in privy digging and the exciting artifacts that he has found.
For those unfamiliar with privy digging, it involves digging and exploring old abandoned outhouses. The outhouses are usually located on private property and were in use prior to the advent of indoor plumbing. Bottles and other household items are the most common artifacts found in the privies. 
Mr. Jenkins will talk about how a person goes about getting started in, and the process of, privy digging. After this presentation, Mr. Jenkins will talk about some of the finds that he has made in local area privies -- including the resources he uses to find out more about each artifact. There will be separate presentations on local soft drink and beverage/food bottles, local dairy bottles, local pharmacy bottles, and local liquor and beer bottles. There will be time for question and answer sessions after each presentation.
| | |
| --- | --- |
| 10:00 AM | How to Privy Dig |
| 11:30 AM | Local Soft Drink and Beverage/Food Bottles |
| 12:00 PM | Lunch |
| 1:00 PM | Local Dairy Bottles |
| 2:00 PM | Local Pharmacy Bottles |
| 3:15 PM | Local Liquor and Beer Bottles |
In conjunction with this program, Mr. Jenkins will have a display at the Library of some bottle & artifact finds. Running from March 1 to April 1, the bottles & artifacts will be located in the display case near Reference and the pubic computers. The bottles & artifacts are from the collections of Heath Jenkins and Troy Bartley.
This event is sponsored by Our House and Bossard Memorial Library and is free and open to all.