| Label | Information |
| --- | --- |
| Dates & times | |
| Category | Tweens, Teens, Adults |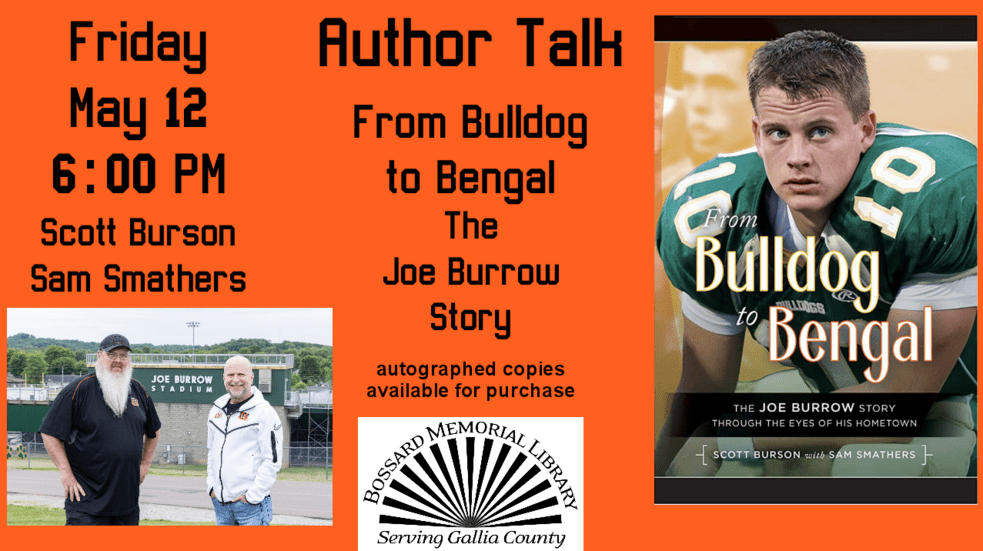 Bossard Library is excited to welcome Scott Burson and Sam Smathers to the Library for an author talk on their new book, From Bulldog to Bengal: The Joe Burrow Story Through the Eyes of His Hometown.
This author talk will occur on Friday, May 12 at 6:00 PM in the Riverside Room at the Library.
Autographed copies of From Bulldog to Bengal will be available for purchase.
From Bulldog to Bengal is the remarkable story of Joe Burrow, a small-town boy whose hard work and mental tenacity have taken him to the top of the football mountain.

Burrow has ascended to the peak, but not without challenges. His story includes doubters and recruiting snubs. It includes waiting for a turn that would never come at Ohio State. It includes placing a bet on himself and transferring to LSU. It includes a devastating injury and the toughest test of his life.

Ultimately, this is a story about staying grounded. Burrow has made it to the top of the mountain by keeping his head out of the clouds and feet firmly planted in Southeastern Ohio soil. From shining a light on food insecurity during his Heisman speech to wearing clothing and cleats designed by hometown kids, Burrow has never forgotten his roots and those who have helped him along the way.

This book is a celebration of Joe Burrow's first twenty-five years. And you are invited to the party. (blurb provided by publisher)
Sam Smathers was Joe Burrow's first football coach. Smathers coached Joe from third through sixth grade. His garage, affectionately known as the Dawg Pound, houses an impressive collection of Burrow memorabilia. Smathers has been interviewed by The Los Angeles Times, New York Times, and NFL Films.
Scott Burson is a graduate of Athens High School and the University of Rio Grande, where he was the first basketball player in Rio history to be nominated for Academic All-American honors. After a career in sports publishing, Burson joined the faculty at Indiana Wesleyan University. He is the author of four books.
This event is free and open to all.