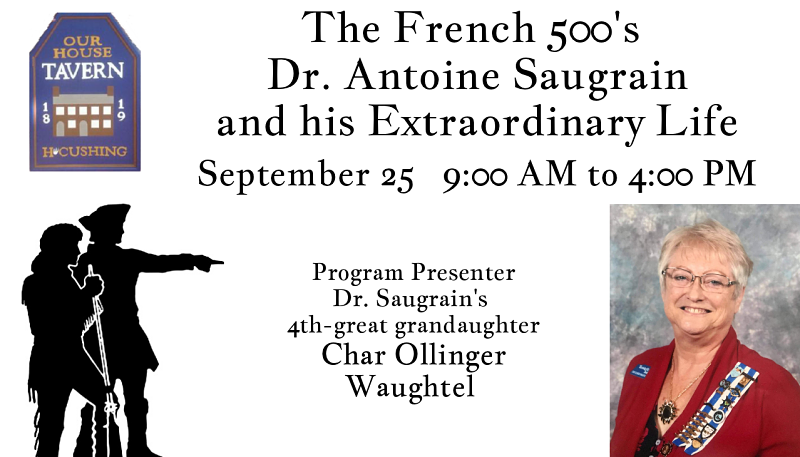 Please join us in welcoming Char Ollinger Waughtel, the fourth great-grandaughter of Dr. Antoine Saugrain, as she presents a program on Dr. Saugrain and his extraordinary life.
Dr. Saugrain was a French-born physician who, as one of the French 500, helped establish Gallipolis in 1790. In 1793 he married Genevieve Rosalie Michau and the couple moved from Gallipolis to St. Louis in 1799.
Dr. Saugrain was noted for experimenting with early versions of phosphorus matches and for manufacturing thermometers and barometers in Gallipolis.
He was the first physician west of the Mississippi River to use the cowpox vaccine to prevent smallpox and offered the vaccine to all persons regardless of their ability to pay or not.
Dr. Saugrain also helped to outfit the Lewis and Clark Expedition with medical supplies along with items such as thermometers and matches that he made himself.
The morning sessions will cover Dr. Saugrain's early life and his settlement in Gallipolis while the afternoon sessions will cover his later life and his involvement with the Lewis and Clark Expedition. There will be time allotted for a lunch break in between the sessions.
9:00 to 10:15 -- Introductions, Meet My Grandfather, The Ohio River
10:30 to 12:00 -- The French 500 and Gallipolis, Ohio
12:00 to 1:00 -- Lunch Break
1:00 to 2:15 -- The In-Between Years and Lexington, Kentucky
2:15 to 2:30 -- Break
2:30 to 4:00 -- Dr. Saugrain helps Lewis and Clark
We would like to encourage all Saugrain and Michau descendants to attend as well as descendants of French 500 families.
Co-sponsored by the Our House Tavern and the Bossard Memorial Library, this event is free and open to all.
For more information, please contact the Our House Tavern at 740.446.0586 or Lynn at Bossard Library, 740.446.7323 x 229.