| Label | Information |
| --- | --- |
| Dates & times | |
| Category | Adults |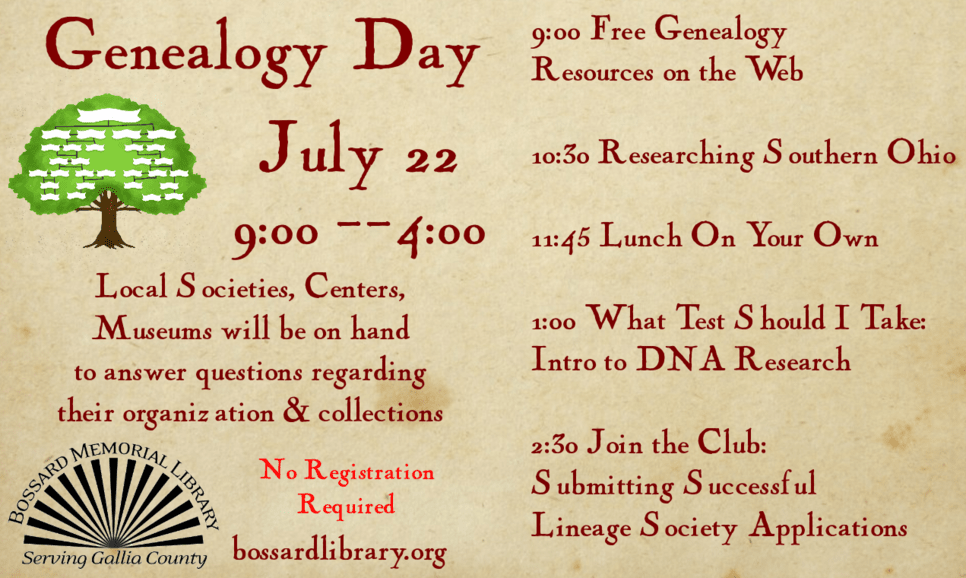 Are you interested in exploring your family roots?
If so, make sure to attend Bossard Library's Genealogy Day on Saturday, July 22, 2023 from 9:00 AM to 4:00 PM.
Certified genealogist Dana Palmer will offer a series of genealogy presentations throughout the day.
9:00 -- 10:00     Free Genealogy Resources on the Web -- Discover how to find and use information found on free genealogy websites such as FamilySearch, RootsWeb, Chronicling America, Archive.org and many others.
10:30 -- 11:30   Researching in Southern Ohio -- Learn about the abundance of genealogy resources that Southern Ohio has. Be successful in finding your ancestors by knowing what is available and where to find it.
11:45 -- 12:45   Lunch On Your Own -- Enjoy lunch at one of our local restaurants
1:00 -- 2:00      What Test Should I Take? Intro to DNA Research -- DNA testing can be useful in breaking through your genealogy brick walls. Learn about the types of tests and tricks for getting started.
2:30 -- 3:30      Join the Club: Submitting Successful Lineage Society Applications -- Do you want to join a local, state, or national lineage society? Learn what you need to submit so you can be accepted successfully.
The following local groups/organizations will be on hand to answer questions regarding their organization and their collections:
| | |
| --- | --- |
| The Our House | John Gee Black Historical Center |
| Gallia County Genealogical Society | French Colony, Daughters of the American Revolution |
| Gallipolis Railroad Freight Station Museum |   |
|   |   |
Make sure to stop by the Library's table and check out the multitude of genealogy resources we have available for both beginning and advanced genealogists.
Dana Palmer has a background in education and received her BA in Math Education. With a love of family history and a background in teaching, she began teaching beginning genealogy classes in 1996. She has been a genealogy instructor at Sinclair Community College since 2010 and she also has an online beginning genealogy course through Eagle Investigative Services.
She became a certified genealogist in 2009 and a certified genealogical lecturer in 2019. She has spoken at RootsTech in 2020, 2021 and 2022;  NGS (National Genealogical Society) in 2018, 2020, and 2021; FGS (Federation of Genealogical Societies) in 2013 and 2020; and at many other state and local conferences, seminars, and events.
Her research focuses on the Midwest, specifically Ohio, but she has researched in many locations across the United States and in Germany, the U.K., and Denmark. She specializes in lineage society applications and has published over 30 books for her genealogical society, clients, and family.