| Label | Information |
| --- | --- |
| Dates & times | |
| Category | Teens, Adults |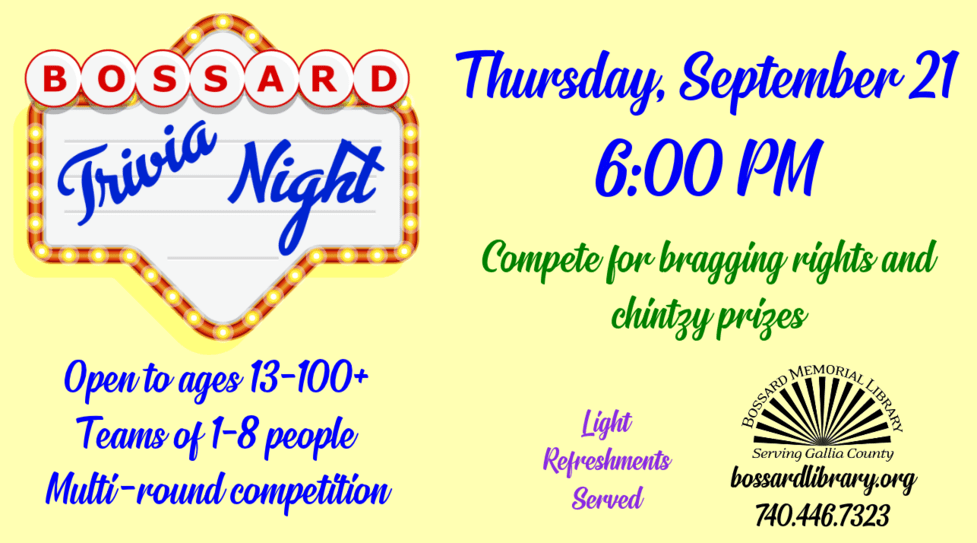 Come out and compete for "know-it-all" bragging rights and chintzy prizes at Bossard Trivia Night.
Each month, take part in Bossard Library's Trivia Night and see how much you know about current events, science, history, pop culture, and more. Trivia Nights usually occur on the first Tuesday of the month at 6:00 PM but can be scheduled for a different date and time. 
Participants can play individually, be matched up with others to create a team, or bring a team of family and friends. The maximum number of participants for each team is 8 people. Clever but appropriate team names are encouraged.
This will be a multi-round competition with questions ranging from easy to challenging. Teams will submit answers on paper so no one will have to stand up in front of everyone, push a buzzer, or feel self-conscious.
Trivia begins promptly at 6:00 PM, so plan on arriving a few minutes before to get situated with your team.
Trivia Night is free and open to teens, adults, and families with children ages 13+. 
The winning individual or team will receive a nominal prize, have their photo placed on the Library's Facebook page and, most importantly, will own the bragging rights to Bossard Trivia Night for the month.
Light refreshments will be served.