| Label | Information |
| --- | --- |
| Dates & times | |
| Category | Kids, Tweens, Teens, Adults |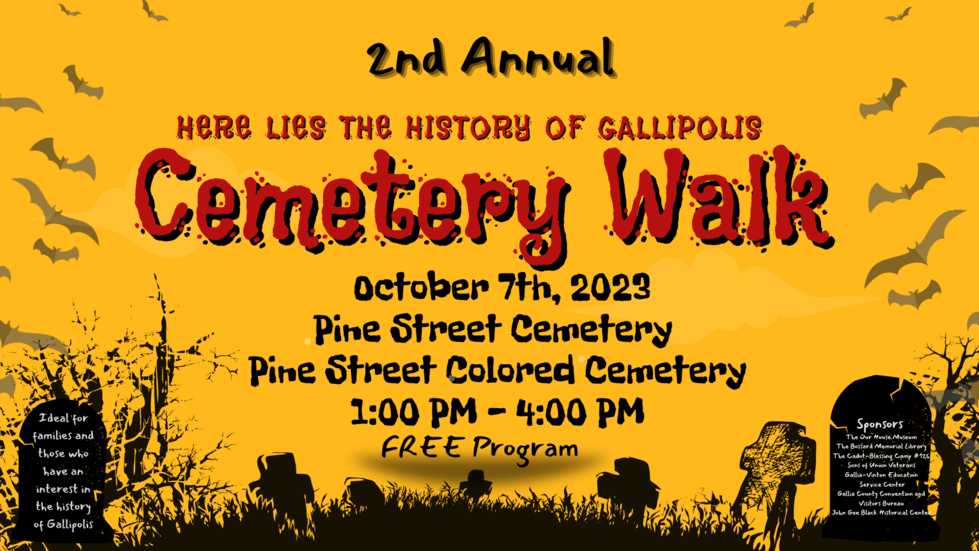 Visit the Pine Street Cemetery and Pine Street Colored Cemetery on Saturday, October 7 from 1:00 PM -- 4:00 PM and explore the history of Gallipolis.
"Living Historians" in period dress will introduce visitors to some well-known and not so well-known citizens of Gallipolis and Gallia County.
"Meet" Revolutionary War, Civil War, World War I and World War II soldiers; the first mayor of Gallipolis; the congressman who established the U.S. Department of the Interior; a Civil War nurse; a victim of the Yellow Fever epidemic of 1878; early settlers; and many other notable citizens from Gallia County.
This event is sponsored by the Cadot-Blessing Camp #126 Sons of Union Veterans of the Civil War, the Our House Museum, the Gallia-Vinton Educational Service Center, the Gallia County Convention and Visitors Bureau, the John Gee Black Historical Center, and Bossard Memorial Library.
This event is free and open to all ages.