| Label | Information |
| --- | --- |
| Dates & times | |
| Category | Adults |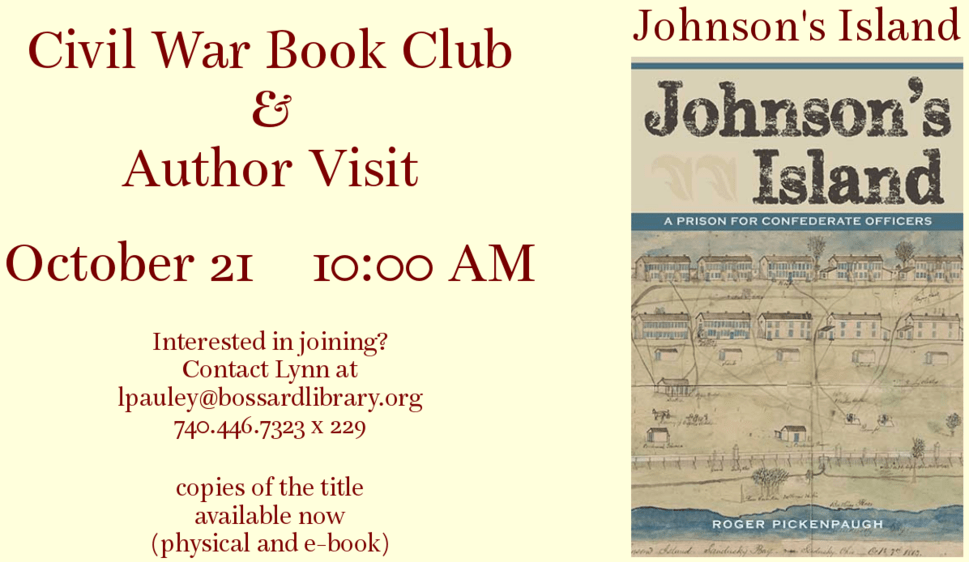 Are you a history buff? Interested in the Civil War?
If so, please join us for our Civil War Book Club on Saturday, October 21, 2023 from 10:00 AM to 12:00 PM.
We will be discussing Johnson's Island: A Prison for Confederate Officers by Ohio author Roger Pickenpaugh. Gene Huffman, member of the Cadot-Blessing Camp #126 Sons of Union Veterans of the Civil War, will be the moderator for the discussion.
Our special guest will be author Roger Pickenpaugh who will discuss his research on Civil War prisons and the writing of his book.
In 1861, Lt. Col. William Hoffman was appointed to the post of commissary general of prisoners and urged to find a suitable site for the construction of what was expected to be the Union's sole military prison. After inspecting four islands in Lake Erie, Hoffman came upon one in Sandusky Bay know as Johnson's Island. With a large amount of fallen timber, forty acres of cleared land, and its proximity to Sandusky, Ohio, Johnson's Island seemed the ideal location for the Union's purpose. By the following spring, Johnson's Island prison was born.

Johnson's Island tells the story of the camp from its planning stages until the end of the war. Because the facility housed only officers, several literate diary keepers were on hand; author Roger Pickenpaugh draws on their accounts, along with prison records, to provide a fascinating depiction of day-to-day life. Hunger, boredom, harsh conditions, and few luxuries were all the prisoners knew until the end of the war, when at last parts of Johnson's Island were auctioned off, the post was ordered abandoned, and the island was mustered out of service.

(description courtesy of Kent State University Press)
Visitors can tour the Confederate POW cemetery located on Johnson's Island and visit the Johnson's Island Museum/Information Center located in downtown Sandusky.
Copies of Johnson's Island ( physical and e-book) are available for checkout at the Library. 
If you are interested in attending or would like a copy of the book, please contact Lynn by stopping in at the Library, calling 740.446.7323 x 229, or e-mailing lpauley@bossardlibrary.org.
This event is free and open to all.
Light refreshments will be served.